I recently attended The Fashion Edit at the HSN offices in midtown Manhattan where they showed off their upcoming great fashion and beauty products to editors/bloggers.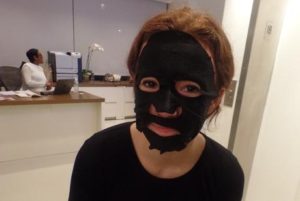 I loved perusing the racks of great clothing by Wendy Williams and Serena Williams among others–and I went nuts to see the great offering from Deborah Lippman and Lancome (you can't get much greater than them in the beauty world)–but I was extremely impressed by VBeaute's Deep Sheets, which were being applied on the spot to editor's faces.
It not only caught my eye that the sheets are a mask made out of a black cotton blend, but they smelled so fresh! (You can see the sheet on an editor at The Style Edit on the top right.) The key to the effectiveness of the VBeaute Deep Sheet is that you relax with one on 10 to 20 minutes, then you gently remove it and massage the residue into your case. Charcoal is the active ingredient and after only one use you will feel a pleasant tightness of your pores and definitely feel that the charcoal is getting in there to extract the impurities.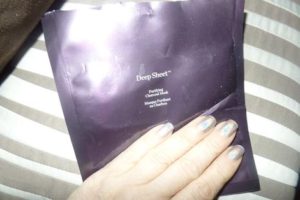 This trendsetting product is not going on sale until March 2016 but be sure to check in at HSN.com for updates on its debut. I hear they will cost about $30 for six sheets, which is a real bargain! This is perfect for when you have had a long week and your whole face feels like it is both sagging and possibly breaking out. It works miracles. I have done it twice myself already!